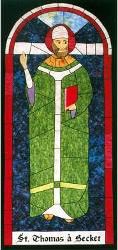 St. Thomas à Becket – Bishop and Martyr
Born to life on December 21, 1118(?) A.D., London, England
Martyred for the Faith on December 29, 1170, Canterbury, England
Canonized: 1173 A.D. – Rome
Thomas was a tall, handsome, and intelligent young legal clerk. He had a magnetic personality and made friends easily. His remarkable memory and business ability brought him to the attention of the Archbishop of Canterbury. Recognizing in Thomas an excellent speaker who was also able to solve complicated problems, he decided that Thomas would be a good match for Henry II, the King of England and so, brought Thomas to Canterbury.
Having the archbishop's recommendation and endorsement, King Henry II agreed to make Thomas Chancellor of England, a post he held for eight years. Thomas loved his life. He spent his money on lavish clothes, extravagant entertainment, hunting parties, and good times. A strong friendship developed between the king and his chancellor. Unfortunately, King Henry sought complete control over his kingdom and further sought control over the Catholic Church in England as well. As the king planned to usurp the powers of the Church, he realized that he would need an Archbishop who would not oppose him, an Archbishop who would be under his influence and control. He looked to Thomas.
But of his long friendship with his chancellor, Henry believed that Thomas would support him in his plan to control the Church. Realizing the great danger in Henry's ambition to control the Church in England, Thomas strongly objected to the King's plan. Faced with the responsibility of leading the people of God, Thomas changed his manner of living and began his theological studies anew. Henry continued his pursuit of Thomas and finally persuaded his chancellor to agree to become the new Archbishop of Canterbury. Thomas, who was only a deacon at the time, was summarily ordained to the priesthood and, in a fortnight, was elevated to the Episcopacy and made Archbishop of Canterbury.
Many months passed as the ambitious king Henry proceeded with his efforts to reduce the power of the Catholic Church in England. Thomas adeptly and boldly blocked Henry's efforts trying the king's endurance and patience. One evening while dining with his nobles, Henry expressed to his guests his frustration with the Archbishop of Canterbury and, perhaps in jest, asked if there was no one in England who could rid him of this meddlesome priest. A group of Henry's nobles, having heard this remark, took the king seriously and so, they set out for the Canterbury Cathedral and the Archbishop therein.
As Archbishop Thomas à Becket was leading the divine office, Henry's men surprised him at the altar, cornered him and put him to the sword. When the people of London heard the news that the Archbishop of Canterbury had been murdered in the Cathedral, they were shocked. That such an evil and murderous act had been committed against a man of God, within the house of God, and in the name of the King of England was utterly unbelievable. Thomas was acclaimed by the people of England as a martyr, having given his life for the faith. Thomas was canonized in Rome in 1173 A.D., a mere three years after his having been murdered in his cathedral on December 29, 1170.
Saint Thomas à Becket's shrine was one of the wealthiest and most famous in Europe. The martyr's holy remains are believed to have been destroyed in September 1538, when nearly all the shrines in England were dismantled.